The 7 most bizarre coworking spaces you should visit

7

min read
June 6, 2018
|
5

min read
The 7 most bizarre coworking spaces you should visit

7

min read
Reading Time:
5
minutes
Are you looking for a unique coworking space? If your answer is yes, check out our list of the most inspiring coworking spaces from around the globe. From a romantic castle to harsh Afghanistan, there are so many amazing places to discover! Are you ready to check out the 7 most bizzare places you can work?
1. The Castle
What about living in a castle?
Every little girl once dreamed about being a princess and living in a castle. Now, thanks to Creative Castle, an organized retreat taking place in various European countries, your dream can come (at least partially) true.
The next retreat will take place in Spain in a rustic 12th century fortress.
The caste is located in Llaers, in the middle of the forest, just two hours away from Barcelona.
This retreat is dedicated mostly to writers, so if you're planning to launch a new book and you need inspiration, this could be a great place for you.
2. Afghanistan
If you're a fan of extreme tourism and you love going to tourist-free destinations, visit Daftar, the first coworking space in Afghanistan.
Daftar was established by the Afghanistan Center for Excellence, a management consulting firm in 2016. The founder of the initiative, Suleman Fatimie, was inspired by a coworking space in Soho, New York and thought to himself, why not create something similar in Afghanistan? Soon after, Daftar was born.
The space is composed of several rooms that can be used for meetings, hosting conferences, or just conducting work in silence. Daftar also features facilities for spare time activities such as a volleyball courtyard, a mini gym and a prayer room.
3. The Church
If you're are a writer or blogger who needs absolute silence and concentration, what could be more peaceful and inspiring than working from a church? Wait a second – a church?
The founder of the idea – Daryn DeZengotita – has always loved churches. Both peaceful and quiet, churches are the ideal place to think over important decisions and meditate. Whilst the number of visitors attending churches is rapidly decreasing, the number of people looking for an inspiring place to work remotely is increasing every day.
That's how Table Coworking was founded – a movement that is transforming vacant public and sacred spaces into coworking offices. If you happen to be in Dallas USA, we recommend that you visit one of these mystical and sacred places – White Rock UMC. The space is composed of several small meeting rooms and one larger conference room. The Atelier is a great option for artists looking to get inspired.
4. The Van – a moving coworking space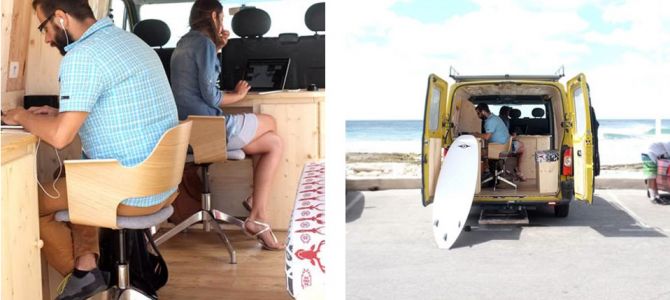 If you don't like crowded places then L'Annexe Yelloworking coworking space is something for you. The beautifully designed yellow van can accommodate a maximum of 3 coworkers – from which 1 has to take a break or make some calls since there are only two desks and two chairs.
The biggest advantage of this mini coworking space is that it can take you literally everywhere, it's a van! Imagine, a different view from your office window every day! When it comes to internet, the coworking space uses a portable 4G modem, so the connection can often be even faster than in a more traditional office.
The yellow van cruises the French Riviera in freedom with no set route.
5. Football Stadium
If you're ever in Warsaw, Poland, don't forget to visit a coworking space called Business Link located in The PGE National Stadium of Warsaw.
This is a must see place for all football fans. Imagine working and watching your favourite team in the flesh at the same time!
The space can be accessed 24/7, with beer available making it a great place to meet up and do business in a relaxed, friendly environment.
Being a football stadium, it's also a great place to meet with experienced investors. A great opportunity that can be particularly appealing for startups.
6. Blockchain Powered Coworking
An ideal coworking place for tech lovers, geeks and evangelists, Full Node is a Blockchain only coworking space, situated in Berlin, one of the most exciting cities on the planet. Opened in March 2018, this new and exciting blockchain coworking space offers numerous opportunities to extend your knowledge in new trends and technologies in business.
The space is promising 24/7 access, numerous blockchain meetups and even sleep boxes, in case you get really tired. If it's inspiration you seek, the space is offering playful lounges, brainstorming rooms, and even phone booths and audio boxes where you can record your podcast.
So why Berlin? Thanks to the widespread adoption of cryptocurrency Berlin is becoming the new Blockchain capital of Europe.
If blockchain is your thing, Full Node is the ideal place for you.
7. Skiing Resort
If you love mountains, you should visit the Tahoe Mountain Lab, located on lake Tahoe in California. Tahoe is a famous skier's paradise. Imagine skiing all day with the view of the picturesque dark blue lake Tahoa in the background. If you are not good at skiing, lake Tahoa still has a lot to offer. It has a unique 'end of the world' vibe, so if you need to escape a big city, this is an ideal place to do so. Located only 2 hours from Sacramento and less then 4 hours from San Francisco, you can enjoy both worlds. Skiing snowy slopes and swimming in the beautiful ocean in the same day!
Tahoa Mountain Lab was created because it's founders believed there was a need for a stronger, more cohesive professional community in South Lake Tahoe. The coworking space organizes lots of events and outdoor activities such as volunteering, stand up paddle boarding, skiing, snowboarding, snowshoeing, hiking, biking and beer brewing. You just can't get bored here!